On 9-25-17 Get Graphic's Chad Munroe attended and completed the Avery Dennison Supreme Wrapping Film Training at Car Wrap City, in Dallas Texas, taught by world renowned wrap installer Justin Pate. Chad was already certified by 3M as a 3M Preferred Graphics Installer, a 3M Endorsed Architectural Installer, and is a member of an exclusive worldwide group of installers known as Masters Of Branding, but wanted to gain extra knowledge in the field from the perspective of another industry leading manufacturer Avery Dennison, as well as pick up some new tricks from the legendary Mr. Pate.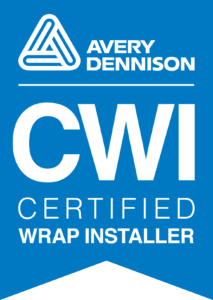 Avery Dennison also offers a Certified Wrap Installer (CWI) test and certification. The Supreme Wrapping Film Training is part two of a 2 part training course that is a recommended prerequisite for the test and certification.
Chad successfully completed the CWI test on 9-27-17 & added the Avery Dennison CWI Certification to his resume, making him Northwest Arkansas first and only Avery Certified Installer and one of only a handful of installers nationwide to have both Avery & 3M's Installer Certifications.
Get Graphic is committed to always striving to be the best in our field, with the latest training available, state of the art equipment, and the best design and installation in our area. Proving that there is only one option when you want the best. "We Take Care Of Business …YOUR Business!"